Wow, it seems like only yesterday I did a LOTW post for Missys Blog and yet, here I am once again over a week late! This weeks layout designer is one of my favorites from our Creative Team. Her name is Memi and I actually get the pleasure of working with her on a variety of projects and websites.
My favorite layout of hers, is one of her most recent designs using the new kit Girls 2 Ride.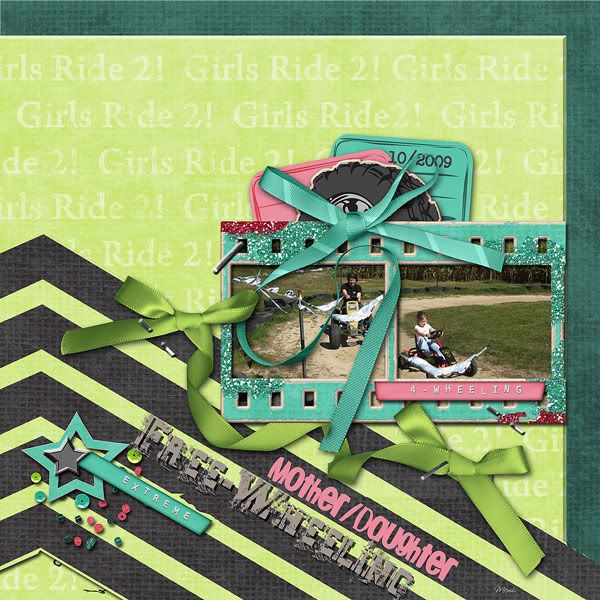 This layout has such great dimension and depth and yes, I am jealous of the fun they are having in the pictures too. What a lucky girl!!
When I asked Memi to give me a brief description of her and her life, she gave me the most positive answer I have seen in a long time:
I'm at the best point of my life (so far). I'm retired, Jay and I are healthy, we have wonderful children and exceptional grandsons living nearby, and I discovered digi scrapping when I have time to be obsessed. It doesn't get better than that!
I love her honesty passion and joy.... So of course I had to challenge her with some of my crazy questions... Just to see what her response would be of course.
In the song Yankee Doodle, is he calling the horse or the feather "macaroni"?
The feather- horses don't curl, do they?
When Atheists go to court, do they have to swear on the bible?
OK, had to research this since I had never thought about it before! Apparently one can "declare and affirm" with no Bible involved.
How can something be "new" and "improved"? if it's new, what was it improving on?
That reminds me of George Carlin. ("I mean, it's like Military Intelligence - the words don't go together, man.")
Why does the Easter bunny carry eggs? Rabbits don't lay eggs.
Because he was low bidder?
To end this post, I will provide a Couple of Memi's favorite products (she has a lot).
Don't forget to pop over and join us for the fun of NDIDDS at Designs in Digital.. Who do you think will be our next design star. Thanks for visiting.